Grant's Blog
With years of experience, Grant Goodman realized that people have many questions about the complicated maze of law. He has taken time to answer some of those important questions. Please read the information and give us a call so we can help you make it through your legal issue.
Goodman Law Firm
Construction Zone Collisions. Some Tips for Staying Safe.
Road construction is still in full swing in Northeast Ohio. The statistics regarding accidents, serious injuries, and deaths in Ohio highway work zones are chilling. The National Transportation Safety Board and ODOT report that:
56,945 vehicle crashes occurred in Ohio work zones between 2003-2012
169 people died in vehicle crashes in Ohio work zones between 2002-2011 28 people died in 2002, the highest number of vehicle crash deaths in a single year in Ohio work zones
7 ODOT employees have been killed in construction zones in Ohio in the last decade from 2003 to 2012 19,988 of the total vehicle crashes were rear end collisions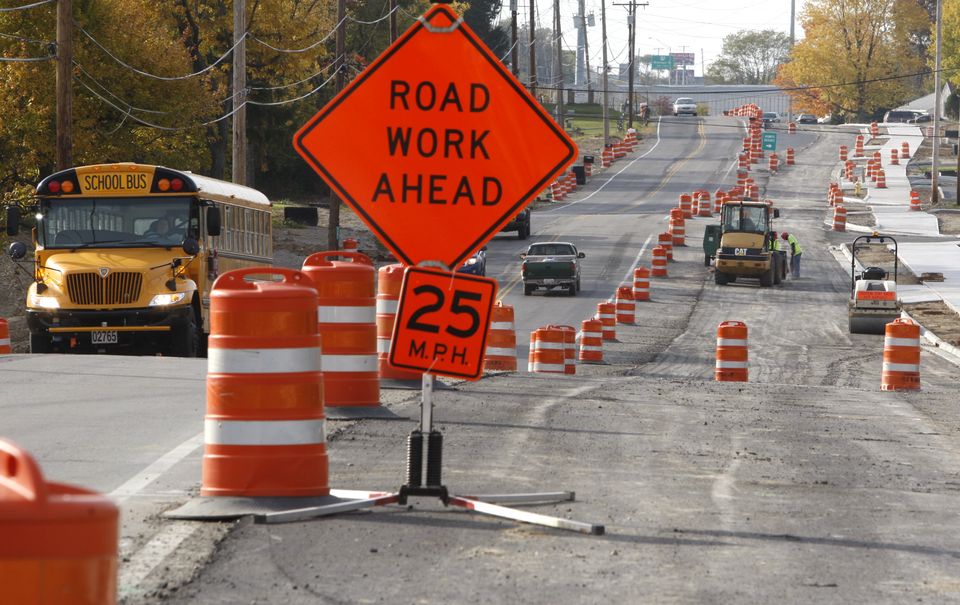 Nationally, fatalities in highway construction and maintenance work zones averaged 778 from 1994 through 1999, 1060 from 2000 through 2006, and 669 from 2007 through 2012. In attempts to reduce these numbers, Ohio imposes steep penalties and fines for driving infractions in highway work zones. Fines for speeding are doubled, and drivers who kill a highway worker or others as the proximate result of committing a reckless operation offense in a construction zone can be charged with aggravated vehicular homicide, a third degree felony that can result in a prison term of up to five years and mandatory license suspension for three years to life
The most common causes of construction zone collisions are speeding, tailgating, disregarding signs and signals, inattentive driving, and improper or reckless merging. The Ohio Department of Transportation has a number of tips for driving safely in work zones, including:
Don't Speed. Obey reduced speed limits in work zones. It takes less than a minute more to drive through a two-mile work zone at 45 m.p.h. than at 65 m.p.h. One of the most common causes of work zone crashes is excessive speed. (Excessive speed has directly resulted in more than 1,500 work zone crashes since 2003 according to ODOT)
Don't Tailgate. Most collisions in work zones are rear-enders, totaling 19,988 of the total vehicle crashes on Ohio work zones between 2003-2012
Stay Alert. Dedicate your full attention to the roadway. The traffic pattern in a work zone may be shifted, and lanes may be closed. Watch for orange work zone directional signs, obey flaggers and be aware of workers and equipment which may be moving in a lane near you.
Be Patient. Traffic delays in work zones are unavoidable, but patience can prevent crashes.
As frustrating as construction delays may be, the few minutes you may lose by adhering to common-sense (and statutory) safety rules in construction work zones is nothing compared to what you, other drivers, and construction workers could lose in an avoidable collision.
The Goodman Law Firm: Experience, Success and Compassion in Ohio Personal Injury Law
Attorney Grant Goodman and his staff at the Goodman Law Firm in Cleveland focus only on personal injury, wrongful death and malpractice claims. With this focus comes skill that has led to millions of dollars in settlements and verdicts for our clients. Along with results, the Goodman Difference is passion and a personal touch. Let us show you what the Goodman Difference is about. Let us help guide you along the path and tell your story to the insurance company, judge or jury. Call 216-928-9990 for a free consultation.
This article has been prepared by the Goodman Law Firm for informational purposes only and does not, and is not intended to, constitute legal advice. The information is not provided in the course of an attorney-client relationship and is not intended to substitute for legal advice from an attorney licensed in your jurisdiction.
Our Results
The Past
Mr. Goodman has been inspired to become a trial lawyer by personally witnessing too much corporate greed at the expense of "the little guy/gal." He prides himself on providing quality service and care for each of his clients.
The Experience
Mr. Goodman is driven by his passion for fair and ethical representation. Over his 20 year career, Mr. Goodman has personally managed and litigated thousands of cases on behalf of his clients obtaining millions of dollars in needed and well-deserved compensation.
Our Successes
Many Cases
While he handles cases involving medical mistakes, animal bites & attacks, crashes & collisions, premises liability/slip and fall, legal malpractice, and civil rights violations and has obtained tens of millions of dollars in compensation for his clients, Mr. Goodman recognizes that the most important case he'll ever handle is yours.
Your Case
His firm is built on the notion that you only have one opportunity to obtain full and fair compensation. Mr. Goodman prides himself on taking the time to understand your unique challenges so that he can be your best advocate.
We Care About You
We Put You First
We will represent you unwavering with class, dignity and focus. We at the Goodman Law Firm know how hard it can be to find an Ohio attorney who really puts the interests of their injured clients first.
The Personal Touch
We deeply care about our clients and their cases, and we work really hard to ensure that you get the best outcome so you can move forward. You are far more than just a case number to us. We know that you have family, friends, loved ones and co-workers who cherish you and need you to recover as quickly as possible.