Grant's Blog
With years of experience, Grant Goodman realized that people have many questions about the complicated maze of law. He has taken time to answer some of those important questions. Please read the information and give us a call so we can help you make it through your legal issue.
Goodman Law Firm
Nursing Home Abuse and Neglect in Ohio: When Trust is Broken
The decision and process of moving a loved one into a nursing home or assisted living facility can be emotional and difficult. When families ultimately find a place where they believe their loved one will be comfortable, safe and cared for, they put all of their faith and trust into the employees.

Sometimes, however, that trust is betrayed. When this happens, seniors suffer the pain, injuries, and indignity that comes from abuse, negligence and indifference. Their families are left with worry, anger, guilt and worse.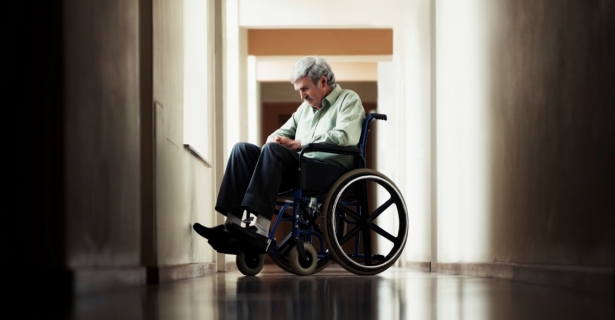 Nursing Homes and Assisted Living Facilities Often Have Serious Deficiencies
These facilities should provide our loved ones with comfort, safety and superior medical care. Unfortunately, a recent study conducted by the Kaiser Foundation found that 88% of Ohio's assisted living facilities were deficient in some way. Many nursing homes are poorly staffed, caregivers often lack adequate training while others fail to ensure they are properly screen candidates to ensure they possess the medical knowledge and personal temperament required to care for our most tender generation.
Seniors and their families often spend a great deal of time researching a nursing home or facility and its personnel before making a decision to entrust them with the senior's care. Nevertheless, that diligence may not reveal many of the problems that can wind up causing grievous harm to the facility's residents.
There are a number of acts and omissions that put nursing home residents at risk and cause them serious injury. These can form the basis of claims for damages against the home or facility. These include:
Medication mistakes
Wrongful death
Bedsores
Physical abuse
Financial misconduct and theft
Malnutrition
Sexual abuse
Falls and drops
Dehydration
Inadequate care for Alzheimer's disease and dementia
Claims Against Negligent Nursing Homes and Their Employees
Depending on the circumstances surrounding your situation, it may be possible to bring a lawsuit against several individuals and entities, including the facility, its employees or its owner. In addition to meeting with a personal injury attorney with experience handling nursing home and elder abuse cases, any abuse or neglect should also be reported to the Ohio Department of Health (ODH), Division of Quality Assurance, Complaint Unit. 
Goodman Law Firm: Cleveland Nursing Home Abuse and Neglect Lawyer
The Goodman Law Firm in Cleveland represents individuals and families who have suffered the pain, trauma and indignity of nursing home abuse and neglect. The Goodman Law Firm zealously pursues accountability and compensation for the victims of nursing home or assisted living misconduct and negligence, and works with families to ensure that their loved ones are treated with the respect, dignity and care that they deserve.
Attorney Grant Goodman and his staff focus only on personal injury, wrongful death and malpractice claims. With this focus comes skill that has led to millions of dollars in settlements and verdicts for our clients. Along with results, the Goodman Difference is passion and a personal touch. Let us show you what the Goodman Difference is about. Call 216-028-9990 for a free consultation.
This article has been prepared by the Goodman Law Firm for informational purposes only and does not, and is not intended to, constitute legal advice. The information is not provided in the course of an attorney-client relationship and is not intended to substitute for legal advice from an attorney licensed in your jurisdiction.
Our Results
The Past
Mr. Goodman has been inspired to become a trial lawyer by personally witnessing too much corporate greed at the expense of "the little guy/gal." He prides himself on providing quality service and care for each of his clients.
The Experience
Mr. Goodman is driven by his passion for fair and ethical representation. Over his 20 year career, Mr. Goodman has personally managed and litigated thousands of cases on behalf of his clients obtaining millions of dollars in needed and well-deserved compensation.
Our Successes
Many Cases
While he handles cases involving medical mistakes, animal bites & attacks, crashes & collisions, premises liability/slip and fall, legal malpractice, and civil rights violations and has obtained tens of millions of dollars in compensation for his clients, Mr. Goodman recognizes that the most important case he'll ever handle is yours.
Your Case
His firm is built on the notion that you only have one opportunity to obtain full and fair compensation. Mr. Goodman prides himself on taking the time to understand your unique challenges so that he can be your best advocate.
We Care About You
We Put You First
We will represent you unwavering with class, dignity and focus. We at the Goodman Law Firm know how hard it can be to find an Ohio attorney who really puts the interests of their injured clients first.
The Personal Touch
We deeply care about our clients and their cases, and we work really hard to ensure that you get the best outcome so you can move forward. You are far more than just a case number to us. We know that you have family, friends, loved ones and co-workers who cherish you and need you to recover as quickly as possible.